Best Places to See Migrating Monarchs

In Florida, the St. Marks National Wildlife Refuge near Tallahassee usually is the best place anywhere to see large numbers of monarchs.
On a good day, the are easy to count in the hundreds or thousands. Monarchs are present between the first of October and the middle of November.

How visible they are depends on the weather. When the sun is out, the weather fairly warm and the wind is still, the sky is often filled with the animals.

On overcast, windy days, the butterflies cling to the trees and the goldenrod. Actually, it is easier to take portrait photographs of monarchs in the worst weather, when they are not moving.
Although the St. Marks refuge covers more than 60,000 acres, the butterflies usually pile up in one place: the old lighthouse, just a few miles past the visitor center.
Monarchs are reluctant to fly directly across the water, so they bunch up at the lighthouse, located on a small tip, beside the Gulf of Mexico. They tend to stay for a time because the food supply is good at this time of year.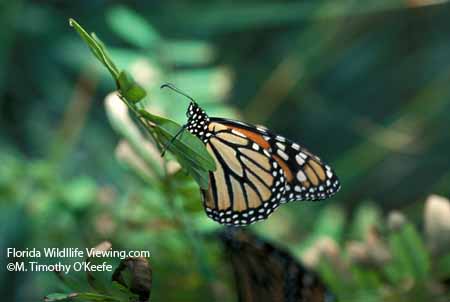 A special monarch butterfly festival is held around the third week of October.
From Florida, the monarchs filter along the Gulf coast toward Texas. At Alabama's Gulf State Park near Gulf Shores, monarchs sometimes cover the oak trees or the sea oats on the beach.
Alabama's Bon Secour National Wildlife Refuge is another good spot, where a thousand or more butterflies can be spotted in a couple of hours. Dauphin Island is not only another migration stop but a place where a good number of monarchs over winter. Dauphin Island's temperatures are usually mild enough that the animals have little trouble surviving.

Traditionally, one of the best places to see monarchs on the island is the old Indian shell mound near the
University of Alabama Dauphin Island Sea Lab. They are usually concentrated around the goldenrod near the west end past the houses. Late October and November mark the best periods.

Monarch Butterfly Life Cycle

Monarchs and Milkweed

Monarch Migration Patterns

Monarchs in Mexico
To Florida Wildlife & Animals Home